A new year has started and a new MahJong Suite version has been released!
This new version of MahJong Suite includes 5 new layouts: 2020 (of course 😉), Mouse, Paperclip, Pine Trees and Trunk.
It also includes 2 new graphic Themes, which will make your gaming experience more exciting! (A theme is a set of graphic elements consisting in a background and a tile set. Several beautiful themes are included in MahJong Suite)
Now that you are here, we would like to remind you the main features of MahJong Suite:
🀄 Dozens of beautiful backgrounds!
🀄 More than 200 different layouts!
🀄 More than 200 different layouts!
🀄 47 beautiful tile sets!43 beautiful tile sets!
🀄 50 beautiful tile sets!
🀄 Many Themes to chose from!
🀄
Lots of advanced features, options and statistics!
MahJong Suite has a unique scoring system that considers both the tile values and the move multiplication factor. You won't only have to play against time. You can achieve higher scores as well.
A unique built-in layout editor lets you change the layout of any game or create your own layouts: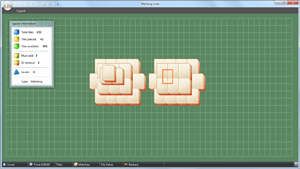 Download the latest MahJong Suite version by clicking here! 👈👈